Trademarks
In order to constantly meet the needs of our costumers, we, without exception, ensure the safety and quality of all our products. As a result, we are in possession of several important trademarks.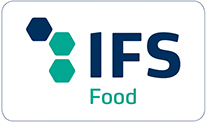 International Food Standard (IFS). This certification gives assurance regarding controlling our food safety program.

Skal Bio. The Skal Bio trademark symbolizes the demonstrable reliability of biological products and we also possess this trademark.