Easter
Without our chocolate Easter-eggs, there is no Easter! As soon as the "spring sun" breaks through and the beautiful Easter celebration is coming close, our store gets filled with the most delicious Easter Chocolate, specially to offer you a Happy Easter!
Our special Easter Chocolate assortment consists of e.g. Easter eggs, Easter bunnies and other Easter chocolate in all shapes, sizes and colours! And, as you are used from us, the entire Easter Assortment is produced according to our own and unique recipes.
Take a look at our catalogue!
---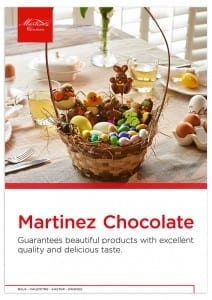 Download our catalogue
Download our catalogue directly to your desktop or telephone and check our newest assortment. If you have any questions about our chocolate products, please contact us.
Catalogue Martinez Chocolatier – spring